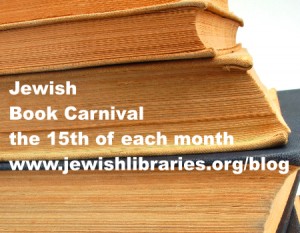 Welcome to the New (secular) Year and a new batch of Jewish book related blog entries; designed to keep you warm on these long winter nights.
At the Book of Life, Heidi Estrin offers an interview with author Linda Glaser and illustrator Adam Gustavson, creators of the picture book Hannah's Way which won the 2013 Sydney Taylor Book Award in the Younger Readers Category.
On My Machberet, Erika Dreifus shares her year just past in Jewish books.
At Shilo Musings, Batya Medad, reviews two books. A Life Not with Standing, Inspirational Memoir by Chava Willig Levy. In her fantastic inspirational memoir, Chavi reveals more about herself than she usually allows people to know. Batya finds  The Soul of Chanukah: Teachings of Rabbi Shlomo Carlebach to be good reading all year long. Reb Shlomo's wonderful stories are always good for reading and telling others.
Diana Bletter explores the "new-old-new" anti-Semitism, a writer's dilemma and other issues in an interview with Phyllis Chesler whose latest book is American Bride in Kabul. [http://thebestchapter.com/2013/12/26/phyllis-chesler-on-a-writers-dilemma-an-american-bride-in-kabul-and-the-new-anti-semitism/]
Lorri M. has reviewed The King of Schnorrers, by Israel Zangwill, and found the bantering to be quite comical.
Kathy Bloomfield of forwordsbooks.com talks about feet at her own website. While at InterfaithFamily.com where she also writes a column, she discusses what's new in Tu B'Shevat books.
The Jewish Book Council announced the winners and finalists of the 2013 National Jewish Book Awards and also shared a Spring 2014 Jewish Book Preview.
Hadassah-Brandeis Institute celebrated the launches of three new books featuring Jewish and gender issues including The Best School in Jerusalem: Annie Landau's School for Girls, 1900–1960, by Laura Schor, "Fertility and Jewish Law: Feminist Perspectives on Orthodox Responsa Literature," by Ronit Irshai and "Marriage and Divorce in the Jewish State: Israel's Civil War," by Netty Gross-Horowitz and Susan Weiss.
Barbara Krasner at The Whole Megillah interviewed Neal Bascomb, author of The Nazi Hunters (Arthur Levine, 2013), which chronicles the capture and trial of Nazi war criminal Adolf Eichmann. http://wp.me/pUBjo-v2
Barbara Bietz interviews Mark Lichtenfeld, author of Line Change over at Jewish Books for Kids