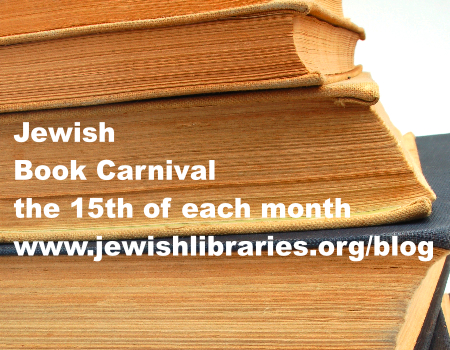 Once again, we're happy to pass on some great links from the Jewish literary blogosphere.
At Rhapsody in Books, Jill Broderick travels back to 18th century Frankfurt to review the Origin of Sorrow by Robert Mayer
On My Machberet, Erika Dreifus interviews Racelle Rosett, author of Moving Waters, a new short-story collection featuring a community of Reform Jews in Los Angeles.
The Jewish Book Council offers a big batch of reviews of new children's literature.
Matti Friedman at the ProsenPeople compares technologies on the Codex v. the Kindle.
"How Jewish is relativity?" Jonathan Kirsch, Book Editor of The Jewish Journal asks in his review of EINSTEIN'S JEWISH SCIENCE .
Ya-Ya and Yo-Yo are the brother/sister protagonists in Sliding Into the New Year by Dori Weinstein. Ann Koffsky reviews this frum-lit book at  http://annkoffsky.com/2012/08/09/ya-ya-and-yo-yo
Kathe Pinchuk dives in (with knitting needles ready) to the newest Hereville graphic novel by Barry Deutsch
Barbara Bietz interviews Monique Polak, author of What World is Left (Orca, 2008) http://barbarabbookblog.blogspot.com/2012/08/monique-pollack.html
At Jewaicious, Lorri gives a glimpse of Italy in her review of A Thread of Grace
Jewesses with Attitude features Moran Solomon, an amazing young Israeli athlete, who sang the Israeli national anthem when she realized that the competition sponsors forgot the get a CD with HaTikvah.
Sylvia Rouss waxes nostalgic about her time on Family Feud.
Three-in-One Notebook Special: The Whole Megillah speaks with author Linda Glaser, publisher Joni Sussman and illustrator Adam Gustavson about Hannah's Way, published recently by Kar-Ben.
Shayna Galyan of Books and Beliefs reminds us of the importance of speaking up even (or especially) when we're worried about being beaten down.
Bagels, Books, and Shmooze's book club selection is older novel. Gay Courter's Flowers in the Blood traces a Jewish family's involvement in the opium trade in colonial India.
And here at Needle in the Bookstacks, we've had a busy month. In honor of Curiosity landing on Mars, I got curious about religion in science fiction. We are also very happy to welcome our first guest blogger; Maggie Anton, author of Rav Hisda's daughter, describes how her research took a magical turn.